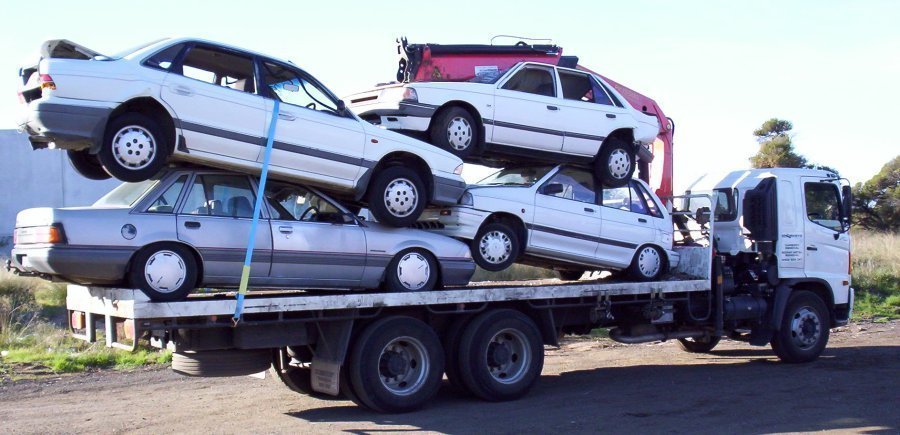 CASH FOR OLD CARS
Get top dollar up to $10,000 for your Unwanted Junk Car Removal Anywhere In Sydney! Worried on how to dispose of that piece of worthless junk? Did you know that you can earn some cash on it? Yes, now it is possible to earn up to $10,000 on your old vehicles right at your door.
We at Sydney Car Scrap offer you good cash for old cars and buy all models and makes, in any possible condition and in any suburb. We can reach your place as early as this afternoon and complete all paperwork and pay promised cash for used cars.
Our towers are licensed, bonded, and insured and have necessary tools and equipment to offer reliable service in all Sydney suburbs. Call on: 0414 060 945 or inform us something about your junk vehicle to receive an instant quote.
WE'LL BUY YOUR OLD CAR FOR CASH INSTANTLY
Not only will our company offer you a free pickup of your car, but we will also make sure that you receive a completely free of cost car valuation. This free quote that you will be getting on your old vehicle in Sydney is given to you within a minute of your call to us.
You have to give us some important and necessary details about your vehicle after which our customer care executive will give you a quote instantly, and without invading your privacy.
How? It's simple! We do all of our assessments online, without having to physically inspect your vehicle.
Junk cars, damaged cars, old cars, second-hand cars, and more types of vehicle removals are conducted in the scrap car facility of Scrap Car Removals. Free car removals are the most popular service in Sydney which makes car buying a regular job for us.
Whether you have a car, truck van or ute doesn't matter to us. As car wreckers and professional car buyers, we offer to pay cash for cars with top-dollar quotes instantly.
WE OFFER TOP CASH FOR OLD CARS
Our company's cash offers for old cars are up to $12000. We pay this amount in cash to all our customers on the spot. Once your vehicle has been picked up, you will be instantly paid through a bank transfer in your account.
As a result, you do not need to wait for any kind of cheque to occur in your mail. You do not have to worry, at all. All you need to do is think of how you're going to spend that money that's going to be coming in soon!
The Condition of Your Vehicle does Not Matter
We do not care about the condition of your vehicle at all. It could be a damaged car, a scrap car, a junk car, or any other kind of old vehicle that you think no one is going to buy. We assure you, that we will buy that vehicle and you will not be disappointed in our services.
We Buy a Used Car in 24 Hours
It takes us only a fraction of seconds to give you a free car valuation on the phone. From then, to getting your vehicle out of your premises, it takes us only a few hours. But we also have a facility available which allows you to book an appointment with us.
Since we know you have a schedule, we took it into careful consideration before we designed the removal process. As a result, this is the most hassle-free service for you! If your question is "Where can I sell my car in Sydney?" The best answer is 'Sydney Car Scrap'.
Available to you Anywhere in Sydney
We are a great service if you are looking to get rid of your car even in the farthest suburb of Sydney, NSW. If you want to get rid of your car today, you cannot conduct a private sale. But we'll tell you what you can do – you can get instant cash for car if you give us a call today! It can be a car, truck, van, etc., that you are trying to sell, and we have space for every type of vehicle.
CASH FOR OLD CARS SYDNEY
We've been offering cash for old cars in the city and have a network of well connected contacts. This definitely helps us in purchasing almost any type of vehicle; we know that we have the right contact to sell them at highest possible rates. That's the reason why we pay highest price to our customers.
Another reason to choose cash for old cars is that we purchase almost all types of vehicles, junk, new, or rusted, including all types of utes, trucks, vans, jeeps, bikes, 4wds, 4x4s, bikes, and even boats. So whatever vehicle you have, we will pay the right price for it. Selling process is very easy! You just need to contact us over phone or on our website. Inform us about your car and obtain a no-obligation free cash for old cars quote. Once you accept the quote, our towers will come at the time most suitable to you.
We never charge any towing fee. So there are no surprises in store when you deal with us. We complete all paperwork on time and pay right on the spot. Our team members will also inform you of the correct procedure to hand over your number plate of your junk vehicle to the authorities.
WHY FIX WHEN YOU SELL YOUR OLD CAR FOR CASH
You can exchange it with for cash by calling us. We remove your car regardless of where the location is or how long it will take to remove it (no job is hard for us). By choosing us you can be ensured that you will receive service and maximum amount of money on the spot.
Our friendly removal team will complete FREE paperwork that will help you to cancel the registration.
As soon as the removal team arrives for the pick up be assured all your headache is gone, They're friendly, professionals and makes sure the job is completed before they leave and lastly we guarantee 100% satisfaction.
We specialize in unwanted car removals, (Sydney and its suburbs) along with paying cash for old cars. Our cash quotes are regarded as the topmost in all of Sydney! Sydney Car Scrap offers will amaze you as they go up to $8999 for all types of vehicles in Sydney, irrespective of the make, model and condition of the vehicle.
Our company has specialist teams in each and every suburb of Sydney, be it the southern beaches or North Sydney, we will buy your old car immediately. Another important feature about Sydney Car Scrap is that we do not have a policy of discriminating locations. This means that you can be living wherever, in any suburb in Sydney, and we will pick your car up for free.
BEFORE WE PICK UP THE CAR
Vehicle owners who contact us to sell their cars to us, this is a hassle-free service. The only thing you need to do to prepare your vehicle for the pickup is to check your car for any of your personal belongings.
When you call us, you will also have to mention everything about the condition of the car. This helps us prepare for the pickup, with the equipment that we need. In conclusion, your information precision helps us provide the best service possible.
For this, get in touch with our team today. Oh! It's the weekend? Well, it doesn't matter to us! Because we are available all seven days of the week to provide the best of our services to you. Book your slot for today by giving us a call on 0414 060 945 today.
If you are busy, or at work, or in class, worry not. You can send us an online inquiry from our 'quote form'. This will ask for a few basic details of you and your vehicle. You will then get a call immediately from one of our customer care officers. These officers will take you through the entire process without any stress or hassle.
TYPES OF OLD VEHICLES WE USUALLY BUY
We not only pay cash for old cars, but also for numerous other types of vehicles in any suburb. Some of the vehicles we buy are in working condition. We always try to offer a genuine quote.
So whether you have a junk jeep, truck, SUV, bike, 4×4, van or any other type of commercial vehicles, Cash for Old Cars will definitely buy it at TOP DOLLAR immediately from you, no matter what its condition or age. We even pay for vehicles torn into pieces!
After arriving at your place in Sydney, we will also complete paperwork for free. We will also inform you of ways to hand over your vehicle's license plate to the authorities.
GET AN ACCURATE VALUATION
We have a team with vast experience in the motor industry. Sydney Car Scrap have been providing accurate valuations for vehicle owners.
We avoid methods such as Red Book and Glasses Guide for arriving at a quote. Instead, we prefer to send our team to your place to appraise your old vehicle and make an informed valuation.
With a huge network of buyers of spare parts, we usually sell within this network, and offer best prices to our customers.
We offer you FREE Quote with onsite evaluations anywhere within hours. There are no catches in our unique process and we will assess your car properly and you will always receive the highest price, always in cash.
Once site inspection is carried out by our experienced staff can tailor a formal written proposal designed to meet your needs. We provide the most economical and efficient solution available. If you have scrap vehicles or truck fleets, we can ensure their removals in bulk at attractive rates.
CONTACT US TODAY!
Gone are the days when you have to scan tons of yellow pages, or call dozens of scrap dealers just to get an estimate on your junk car's scrap value. We provide you an instant free cash for old cars quote!
We can easily remove stranded junk vehicle from difficult areas as well. Sydney Car Scrap is the cash for old cars service that makes selling your junk car easy and fast and never lets you down when it comes to making a Great Offer that is of Good Value.
We always arrive on time regardless of your location. There's no need for you to be physically present there when we carry our removal.
SYDNEY CARS SCRAP – SELL YOUR UNWANTED CARS WITH US!