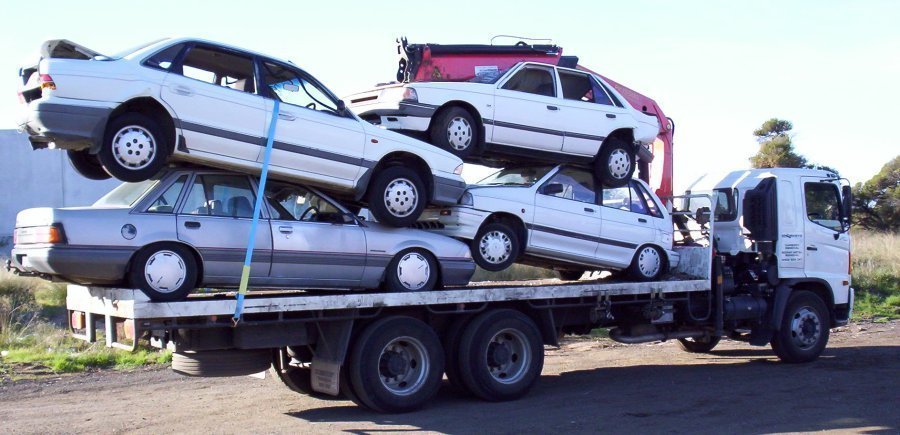 OLD CARS REMOVALS
Guaranteed SAME DAY Old Car Removal in Sydney
Get BEST POSSIBLE PRICE up to for your Old Junk Car
Looking for ways to somehow get rid of your old rusted car without paying any towing fee?
Want to earn some cash in the process?
Also interested in freeing up some valuable space in your driveway or yard? Then you've reached the right place.
Our team at Sydney Cars Scrap pays HIGHEST POSSIBLE PRICE up to $10000 and guarantees same day speedy removal in Sydney.
We pay cash at door for old car removal and can buy old cars, trucks, SUV's, Jeeps, 4WD's, bikes, and even boats. Therefore, if you live anywhere in Sydney and are wondering whether you can sell your old car and avoid all nasty hassles of private sales, you're already here!
SELL OLD CARS
The biggest reason to choose us for old car removal is that we purchase almost all types of cars, damaged or new, junk or registered, trucks, bikes, vans, and even SUV's. Our team offers you the highest ever price in Sydney and will pay you the entire promised amount at your door.
When you choose us for old car removal, the process of selling your scrap car becomes as easy as 1, 2, 3. You just have to pick up your phone and call us. Provide us important details of your car and soon we'll revert with a completely FREE Quote.
Once you agree to our quote, we will quickly dispatch a team of drivers along with a tow truck to your place.
We will also complete the entire paperwork for free and will also inform you of the exact procedure to hand over your license plates. Isn't that awesome!
Something About Us!
We're the most professional, oldest, and most reputable old Sydney Cars Scrap of Sydney and have been actively serving the community for many years. We promptly pay up to $1000 cash for your old rusted vehicles.
We are really fast and can reach your place within hours or at the time most convenient to you. We're open 24 hours a day, 365 days a week. We can even come on weekends for old car removal.
GETTING A VALUATION FOR YOUR OLD CAR
The process to get a FREE quote is very easy. You just need to call us on phone, or fill up a short form on our website. Soon our friendly representative will get back to you with an indicative price.
Verify your Valuation
You can contact us at your convenience to confirm or discuss your valuation.
Finalize the Sale
You can also finalize the sale by simply calling us, or by sending a short email to arrange a no-obligation onsite inspection. This just takes minutes and once it is complete our team will take care of all paperwork.
Payment & Collection
We will pay you the promised cash right at your door before you hand over the keys of your old car!
THE CONDITION OF YOUR VEHICLE DOES NOT MATTER
We do not care about the condition of your vehicle at all. It could be a damaged car, a scrap car, a junk car, or any other kind of old vehicle that you think no one is going to buy. We assure you, that we will buy that vehicle and you will not be disappointed in our services.
NO MORE HASSLES WITH YOUR OLD JUNK VEHICLE
Old unwanted cars can be a big headache as it's very difficult to find buyers. You also cannot dump them anywhere as you may have to pay hundreds of dollars as towing charges to the nearest junk yard.
Sometimes the car has absolutely no selling value. We will always pay you the HIGHEST POSSIBLE price up to $7000 and tow away your old, rusted car for free.
At Sydney Cars Scrap Sydney, we readily accept all makes/models in any possible condition. Our team can quickly reach all suburbs within an hour and can serve with:
Absolutely free junk car/truck removal
Top dollar old rusted vehicle removal
Scrap car/boat/bike removal
Damaged car/boat removal
Cash for junk/smashed/rusted cars, accidental trucks/cars, unwanted cars/trucks, 4WDs/4×4's
Rusted car removals
Free van/jeep removal
Free SPEEDY commercial vehicle removal
So whether you're worried about your old car removal, or it is a truck, van, SUV, 4×4, 4WDs, ute, bike, or boat, we can pay top dollar for any of them, no matter what their age/condition.
How to Schedule your Free Old Car Removal
Get an instant completely FREE quote from us by calling: 0414 060 945
Set up a quick appointment
Our old car removal team will pay you promised cash on the spot
We will immediately tow away your old car to our local junkyard FREE of charge.
WE ACCEPT ALL MAKES AND MODELS
We're happy to pay you TOP DOLLAR for all vehicles including Toyota, Ford, Mercedes, BMW, Mazda, Jeep, Land Rover or Nissan. Whatever your motor vehicle is, whether it's in running condition or not, we can purchase it and can quickly remove it for free!!!
Contact Us IMMEDIATELY for a completely FREE Quote!
For speedy old car removal from your property, get a FREE top dollar quote on phone: 0414 060 945
Our master car removal experts can reach your place within hours and even on weekends. We will complete the paperwork and pay you the promised cash at your door.
BEFORE WE PICK UP THE CAR
Vehicle owners who contact us to sell their cars to us, this is a hassle-free service. The only thing you need to do to prepare your vehicle for pickup is to check your car for any of your personal belongings.
When you call us, you will also have to mention everything about the condition of the car. This helps us prepare for the pickup, with the equipment that we need. In conclusion, your information precision helps us provide the best service possible.
For this, get in touch with our team today. Oh! It's the weekend? Well, it doesn't matter to us! Because we are available all seven days of the week to provide the best of our services to you. Book your slot for today by giving us a call on 0414 060 945 today.
If you are busy, or at work, or in class, worry not. You can send us an online inquiry from our 'quote form'. This will ask for a few basic details of you and your vehicle. You will then get a call immediately from one of our customer care officers. These officers will take you through the entire process without any stress or hassle.
SYDNEY CARS SCRAP – SELL YOUR UNWANTED CARS WITH US!